Zafar Sultan Memorial Trust is a registered non-profit set up in 2006 to bring about positive social change through education – regardless of race, color, religion or financial strength.
Zafar Sultan Memorial (ZSM) Trust was founded in the loving memory of my mother Mrs. Zafar Sultan. She was a founding member of APWA – All Pakistan Women's Association, formed by the late Mrs. Rana Liaqat Ali khan, wife of the first prime minister of Pakistan, to help the needy suffering the aftermath of a newly created nation. APWA was one of the largest charitable organization of its time. ZSM trust hopes to build and manage a facility, which will be boldly emblematic of the Canadian society – a people of diverse backgrounds coming, communicating, and working, together, peacefully, creating a strong sense of community.
The trust first organized one of the largest multi-cultural Canada day celebrations of its kind from 1996 till 2006 with participation of over a thousand members of Pakistani community. This celebration was also attended by several consul generals, members of federal and provincial parliaments, members of security agencies, members of Canadian armed forces and members of the media. It used to be a great show full of eastern dances, songs, and music.
As education is very important for any nation to move forward in life, the trust also hopes to work for education in Pakistan with the mission "To provide the best education in the best environment to the needy in community" Thus, the trust has adopted 2 schools in Karachi from Sindh Government in their "adopt a school" program and spent over a quarter of a million dollars to renovate the 2 existing buildings to bring them to an acceptable standard of education. ZSM Trust is the first registered Canadian Charity to provide a high-quality learning environment with a global perspective that will contribute to educational development throughout Pakistan.
At present the trust is running the
"Farabi Primary School"
and the
"Corks Secondary School"
with about 550 students (boys and girls) from Kindergarten to Tenth grade.
The first batch of students passed their Tenth grade exams in Sept 2017 with excellence making the staff and management proud.
The trust is grateful to the teaching and non-teaching staff to make this a model institution.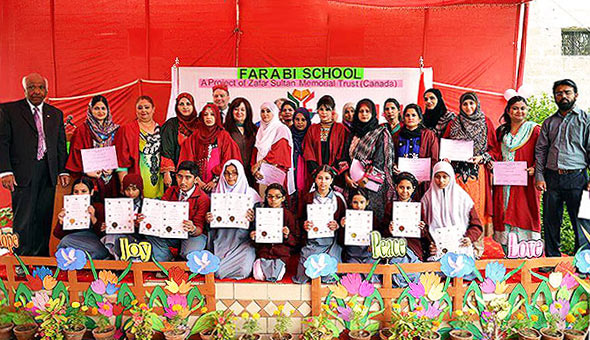 The school was visited in 2013 by a special delegation of two Canadian senators and a member of parliament, who visited Karachi for a day specially to visit the school. The school students were also invited March 3rd, 2015 by the US consul general at his residence to spend time with him – a very unique opportunity. The school students were also invited at the US consulate on Aug 9th, 2017 to participate in sports activities. The school admission system is clear. The school admits students only in KG class. Typically, it receives 400 applications out of which only 60 are selected after several tests, including parents proving to be deserving, as the school fee is free, books and copies are free, shoes are free, and uniforms are given for free; these are all the gifts of the trust supporters and well-wishers who have full confidence in the ZSM Trust. School management tries their best not to admit any student based on "who u know" which in itself is a very unique way of running any project in Pakistan.
We invite all members of the community to join hands with us to promote education in Pakistan as "Education is not a privilege it's a right of every child in the world regardless of race, color, religion or financial strength".
Both schools are dedicated to "All living and nonliving mothers".
Haroon khan
Board chair
Zafar Sultan Memorial Trust Canada